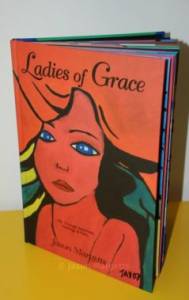 Ladies of Grace – life through emotions and pain is a positive, uplifting and inspirational Art coffee table book, featuring bright and colourful pictures, with a story behind every painting. How amazing would it look on your coffee table?
Brisbane based natural artist Jason has been painting for more that 18 years and has an extensive collection of over 120 oil paintings. All his work are original and have been created from emotions and and sadly pain.
A collection of some of his best work has been placed together in this beautiful and bright book, appealing to all ages.
There are only a limited number of these books available, so get your copy now.
Perfect for a gift, a loved one or yourself.
All Art Work & Pictures are subject to Copyright.
© Jason Margetts